By jjprecisionparts |
18
July 2023 |
0
Comments
The Importance and Benefits of Using Industrial Sapphire Windows
Blog Introduction: Sapphire window is a high-performance material that is used in various industries, including aerospace, watch manufacturing, medical devices, and industrial equipment. Sapphire windows are created from pure synthetic sapphire, making them highly durable, transparent, and scratch-resistant. In this blog post, we will delve into the importance and benefits of using industrial sapphire windows.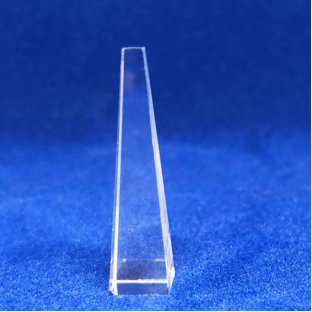 1) High Optical Transmission:
Sapphire windows have high optical transmission properties that make them an ideal choice for a range of industrial applications. Compared to other materials, sapphire windows have better transparency and high transmission of light. This makes them ideal for use in optics and photonics technology. Sapphire windows are commonly used in high-speed cameras, scanners, and x-ray equipment, where image clarity is critical.

Research has shown that sapphire windows can transmit visible light up to 80%, making it possible to achieve high-quality images in different environments. This ability to transmit light makes sapphire windows an essential component in various industries.

2) High Mechanical Strength:
One of the most significant benefits of sapphire windows is their robust nature. Sapphire windows have three times the mechanical strength of tempered glass, which makes them ideal for high-stress applications. Sapphire windows are also scratch-resistant and resistant to most chemicals, making them perfect for harsh environments.

The strength of sapphire windows enables the creation of complex shapes and configurations for different applications. For instance, the watch manufacturing industry uses sapphire windows for watches that use water resistance technology.

3) High Temperature Resistance:
Sapphire windows can withstand high temperatures of up to 2000°C, making them ideal for use in high-temperature environments. This property makes sapphire windows useful in the aerospace industry, where they are used in aircraft instrumentation and monitoring systems.

Sapphire windows are also used in infrared applications because they can withstand high temperatures without affecting their optical properties. The ability of sapphire windows to resist high temperatures enables them to be used in harsh environments without affecting their performance.

4) Biocompatibility:
Sapphire windows are biocompatible, making them ideal for use in the medical industry. Sapphire windows are commonly used in medical implants, where there is a need for high mechanical strength and good optical properties. They are also used in endoscopic equipment, where they provide excellent transparency and scratch resistance.

In addition to these benefits, sapphire windows have a long lifespan, reducing downtime and costs associated with maintenance. They are also eco-friendly and can be recycled, making them a sustainable choice for different industries.

In conclusion, sapphire windows are essential components in different industrial applications. Their high optical transmission, mechanical strength, high temperature resistance, biocompatibility, and sustainability make them a preferred choice in aerospace, watch manufacturing, medical devices, and other industries. As a supplier of high-quality sapphire windows, we are committed to providing our clients with the best quality products and services. Contact us today on Tel: 0086-137-7601-7418 or E-mail: sales@jjprecisionparts.com to learn more about how our sapphire windows can benefit your industry.
Leave a Reply
Your email address will not be published.Required fields are marked. *